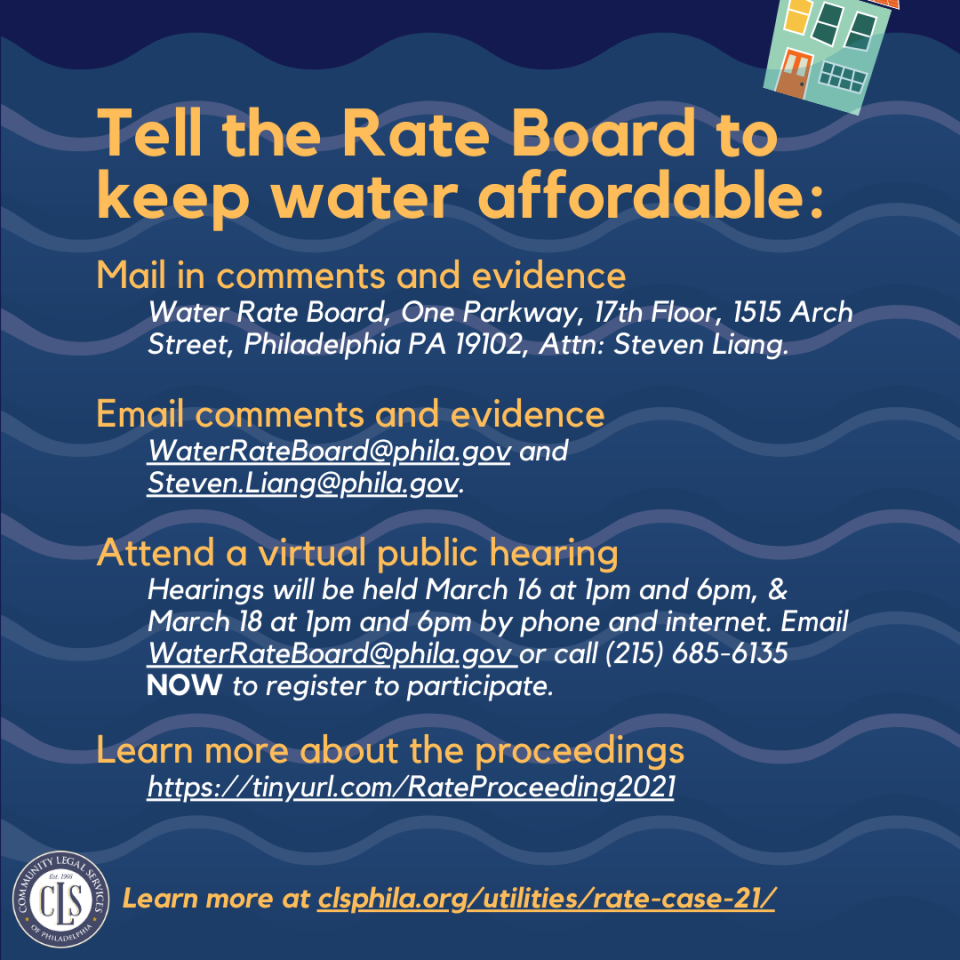 THE 2021 PHILADELPHIA WATER RATE CASE
CITE AS: Kenner, A., Sarao, M., Leone, B., and Rosenthal, A. "The 2021 Philadelphia Water Rate Case." The Energy Rights Project. The Platform for Experimental and Collaborative Ethngoraphy. March 12, 2021.
The Crisis of Affordable Water in US Households
As many as one in 20 homes are disconnected for unpaid bills annually, according to the only national study, but no one knows how many eventually catch up on payments or have to learn to survive without water to flush the toilet, shower, and cook. There's no regulator, and most census questions about water access and poverty have been eliminated since the 1980s.
Source: Lakhani, N. (2020, June 23). Millions of Americans can't Afford water, as Bills Rise 80% in a decade. Retrieved March 12, 2021, from https://www.consumerreports.org/personal-finance/millions-of-americans-c...
This artifact synthesizes research conducted and published by the Guardian US and co-published by Consumer Reports as apart of their ongoing investigation into the Water Crisis in America. After analyzing 12 diverse cities in the United States, it's been found that the combined price of water...Read more
In Philadelphia, advocates working in a predominantly low-income Black and brown neighborhood in 2014, came across people who'd been without running water for decades—forced to use plastic bags for the toilet and bottled water to wash their hands. "It was widespread, and clearly a human rights issue," said Rachel Lopez, director of the West Philadelphia legal clinic. "A man-made drought disproportionately affecting low-income people of color."
The Guardian's research shows that between 2010 and 2018, the number of poor Philadelphians living in neighborhoods where water is unaffordable doubled to 54 percent as bills topped $900. During the first three months of the pandemic, the city reconnected almost 9,000 homes.
About 154,000 of the city's 496,000 water accounts had fallen behind on payments by the end of September, according to data the Water Department submitted to the Water Rate Board. Collection rates appear to be 10% lower than the historical average, the city said.
Source : Maykuth, A. (2021, February 16). Philadelphia seeks 16.9% water rate increase, Citing revenue erosion FROM PANDEMIC. Retrieved March 12, 2021, from https://www.inquirer.com/business/philadelphia-water-rate-increase-histo...
This artifact is a presentation created by the Philadelphia Water Department regarding their proposed rate increase. Without increased rates, according to PWD, they will have insufficient revenues to meet operating and legal requirements in FY2023. The Department withdrew a rate request in 2020...Read more
Information from Community Legal Services
The Philadelphia Water Department has filed to increase rates and is trying to raise people's bills by an average of over 17%. There are two public input sessions for people and organizations to speak out about how this rate increase would impact them and their communities. This...Read more
Community members on water bills
Has COVID-19 changed other weekly/monthly expenses or created new expenses?
It's changed gasoline because I don't have to drive as often, so that's been less. But of course, there's more heat required and more electricity and water usage, so all utilities are going up.
Do you think climate change is impacting Philly?
Other than the normal-- like I said the normal changes in the environment, or in climate, and the changes in utilities and things of that nature, which has a big impact. I don't know, I'm trying to figure out what they could do to be more efficient in terms of providing clean energy to us, because I think it's too high. I think electricity is entirely too high. I think the water bill is entirely too high. I think gas, everything is just too high and I don't know-- at one time I thought that because our area is rich in coal, it's some kind of way they could've made the coal more environmentally friendly since we have so much of it, to help people maintain their homes and their environment. 

It would just be some sort of solution, I think. They can go to the moon -- seems like they can make some better solutions to peoples' being able to stay in their property. Because not only the cost of housing and everything is rising so rapidly, and then they're reassessing property values and stuff. Things is getting much higher. Utilities and stuff are not going down and as far as income disparity, especially for certain people in the community, their income is not going up. So it's very hard for some people to maintain. 

You know, it's just hard. Especially if you're on a fixed income. Seniors and stuff, you know, when change is coming, you're home and you don't have your husband, you don't have the kind of income, you're no longer working. You have to lose what you worked for all your life, which is sad, but that's what's going on in our environment. 

If you're a homeowner, as I said, if everything is skyrocketing, especially becoming seniors and stuff and you can't afford to keep up, some people are losing their homes.

-Rita Watson, August 2019
Margaret: As a homeowner, you got water, taxes, electric, if I need the roof fixed I have to call somebody. You got the whole thing. And I get a water bill every month now. Back in the day, I used to get a water bill once every three months. They'd bill every three months. Not every month like we do now.

Ali: Do you think it costs more now, getting the bill once a month, than it did when it was three every three months.

Margaret: Oh yeah. They call it saving us by breaking it down. It's not helping.